Announcing Our Monthly Empower Award Winner for June 2020  Salinda Mingo
Each month, The Urban League of Portland staff celebrates an employee who has embodied the spirit of the "Empower Award" through exhibiting:
Extraordinary AMBASSADORSHIP

Outstanding PERFORMANCE

and Exceptional TEAMWORK
This month Salinda Mingo, Housing Specialist, won our Empower Award for the month of June 2020. Congratulations Salinda! We thank you for all that you do to empower the community and our team.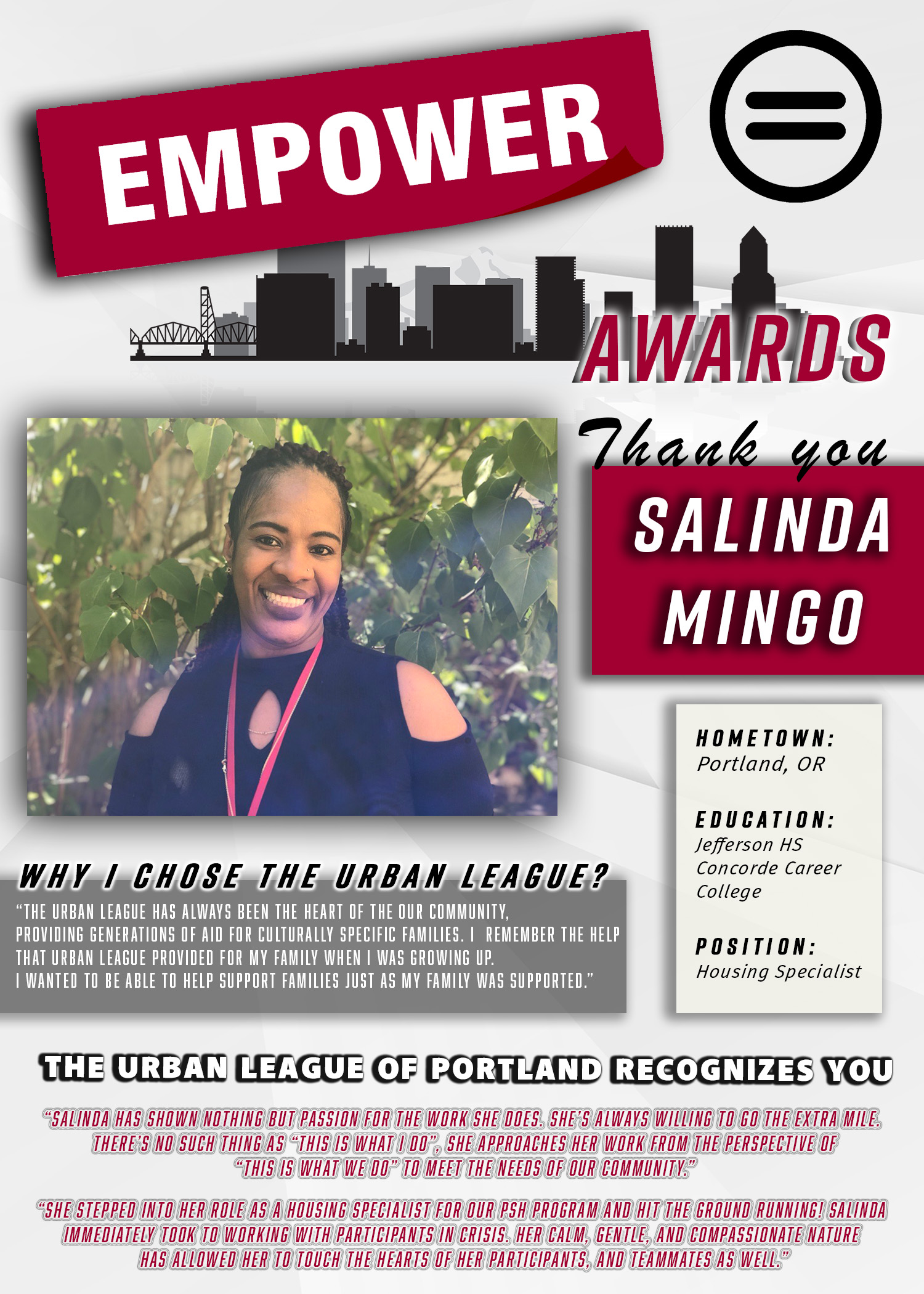 Salinda Mingo, also know as Grace has been employed as a Housing Specialist with the Urban League of Portland since early November 2019. Salinda came to us from a background in the Health Care field. She stepped into her role as a Housing Specialist for our Mobil PSH (Permanent Supportive Housing) program and hit the ground running! Salinda works on a collaborative with JOIN and immediately took to working with participants in crisis. Her calm, gentle, and compassionate nature has allowed her to touch the hearts of her participants, and teammates as well.
Salinda has shown nothing but passion for the work she does. She's always willing to go the extra mile. There's no such thing as "this is what I do", she approaches her work from the perspective of "this is what WE do" to meet the needs of our community. Salinda has been faced with difficult challenges working to meet the needs of the members of our community and she is steadfast in her conviction that what ever it takes, she's willing to do. I've been honored to work with Salinda, she is truly a joy to be around. From her warming smile, to her generous spirit, she is the example of what a true Urban Leaguer is all about, and we're happy to have her on our team!
Thank you Salinda, and Congratulations for this well-deserved honor. We appreciate you, and look forward to all the greatness we hope you'll achieve here at the Urban League of Portland.
~Linda King