Taxpayer Dollars, Budget Priorities Discussed At Town Hall with Elected, Community leaders in Hood River
HOOD RIVER, Ore. – The following is a statement from President & CEO Nkenge Harmon Johnson about today's Community Conversations, a series of statewide town halls by the Urban League of Portland, at the Hood River Best Western Inn with members of the Rotary Club of Hood River. The full discussion can be viewed on the ULPDX Facebook page, and pictures can be found here.
"Through our advocacy and community engagement work, the Urban League focuses on policies that impact Black people and others across the region, not only in the Portland Metro area," said President Harmon Johnson. "The effective allocation of taxpayer dollars by Hood River leaders begins with budgeting that creates opportunities to improve lives and communities."
President Harmon Johnson co-hosted the conversation with Mayor Kate McBride and Janet Hamada, Executive Director of The Next Door. They recognized community champions, whose values and service to Hood River families align with the Urban League of Portland.
"I appreciate the opportunity to speak with Mayor McBride about the city's use of tax dollars to make Hood River safe and prosperous for all who live and do business here," said President Harmon Johnson. "I also feel fortunate to have learned from Executive Director Hamada about the challenges and opportunities facing people of color and low-income families in the Hood River area."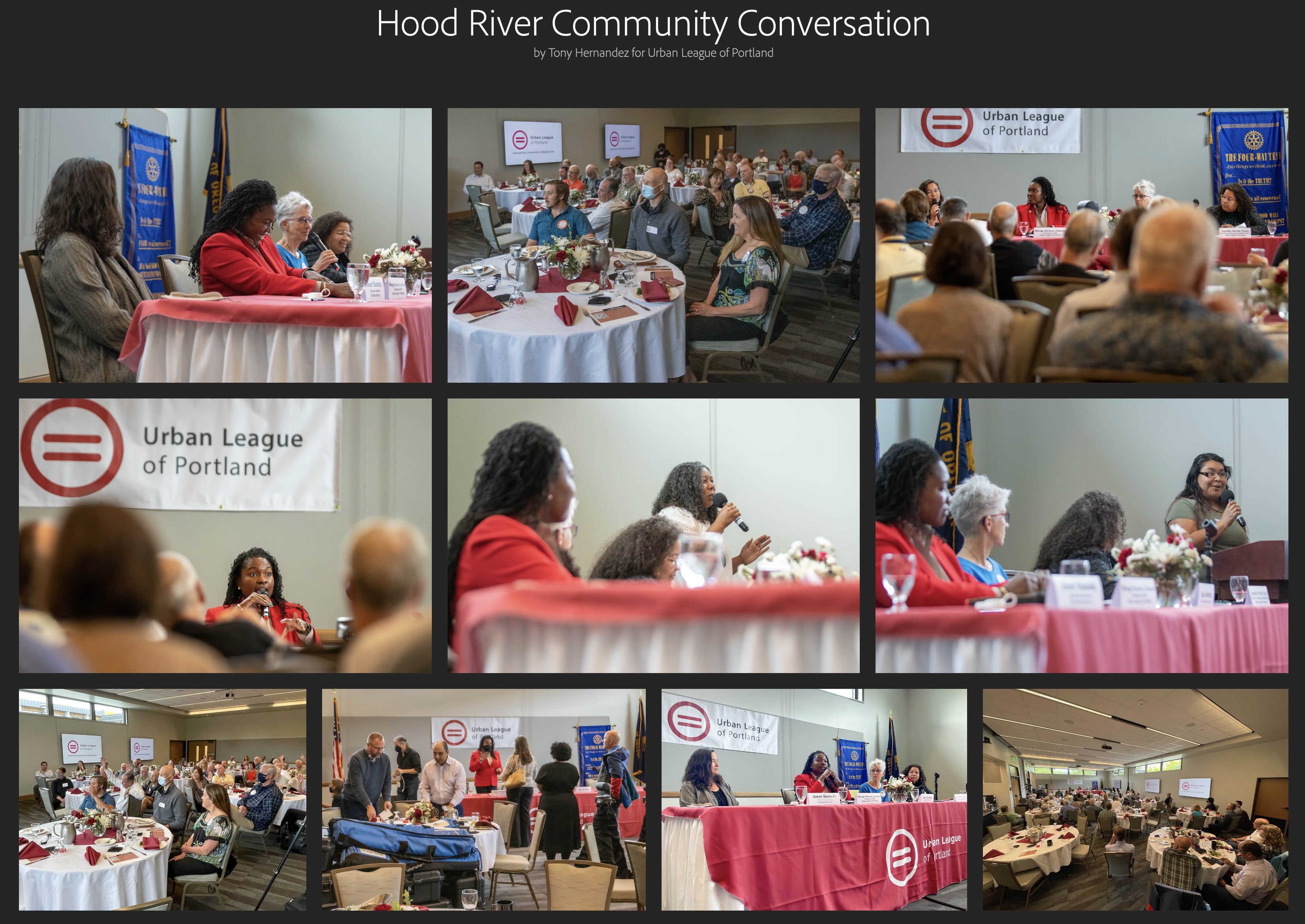 About the League's Chief Executive
President Nkenge [pronunciation: na-KIN-gay] Harmon Johnson, Esq., one of the Urban League's longest-serving President & Chief Executive Officers, began seven years ago and currently presides during the League's 77th year in service to Oregon and Southwest Washington. Under her leadership, the Urban League was recognized as the highly coveted Number 1 nonprofit workplace by Oregon Business magazine last year.
"It's an honor to lead this wonderful team," said President Harmon Johnson. "For nearly eight decades, this organization has served all of Oregon and Southwest Washington with our programming and our robust advocacy on behalf of African-Americans and others. The team continues that legacy with award-winning dedication."
About the Urban League of Portland
The Urban League of Portland's mission is to empower African Americans and others to achieve equality in education, employment, health, economic security and quality of life. The local affiliate was activated in 1945 and is one of the oldest civil rights and service organizations in the area. Founded in 1910, the National Urban League is a historic civil rights organization dedicated to economic empowerment to elevate the standard of living in historic Black communities.
-- 30 --
For Immediate Release
June 9, 2022

For more information, contact Tony Hernandez
Communications Manager | Office of the President
Cell: 503-997-4660 | comms@ulpdx.org